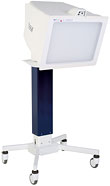 THIS MODEL IS DISCONTINUED FOR SALE AND IS REPLACED BY OPERIO MOBILE!
The mobile, floor-standing unit, TOUL 400, offers unrestricted availability of ultraclean air in operating rooms and general wards. A laminar flow of air is easily aimed over the surgical site or any other area where there is a need for ultraclean air. The unit is easily wheeled between locations.
TOUL 400 produces ultraclean air in a pre-defined area, by circulating the ambient air in the operating room through a HEPA filter to clean the air from bacteria and particles.
The unit is delivered assembled and ready to use.
The unit distributes 400 m3 air per hour through a flexible LAFscreen that forms the airflow into a column of air. This airflow is turbulence-free and is not impeded by the movements of the surgical team in the defined airflow area. Existing regular ventilation system does not affect the function of the unit.
Airflow is > 0,4 meters per second in the defined area.
The TOUL 400 is equipped with an easy to use control system, helping the user direct the airflow in the most effective way. A camera assists in determining airflow direction and an integrated sensor determines the correct distance from the surgical site for maximum effect. An integrated display allows the user to easily check and verify the set-up. The integrated camera can transmit video signals to other video equipment.
Specifikations
Physical Data

Air Flow Unit:

Size: L 70 x W 60 cm; H 156-186 cm

Weight:

58 kg

Power Data

Power Supply:

230 VAC, 50 Hz for Europe, 115 VAC, 60 Hz for US

Power consumption:

160 W

Air Flow Data:

0,5-0,7 m/s, 400 m3/h

Operational Conditions

Working Temperature:

+10° to +40°C (+ 50° to +104°F)

Humidity:

5-80% (non condensing)

Atmospheric Pressure:

500-1060 hPa

HEPA Filter:

Type CAMFIL, High Efficiency Particles Filter;
Filters 99,997% particles >0,3 µm