Protect your instruments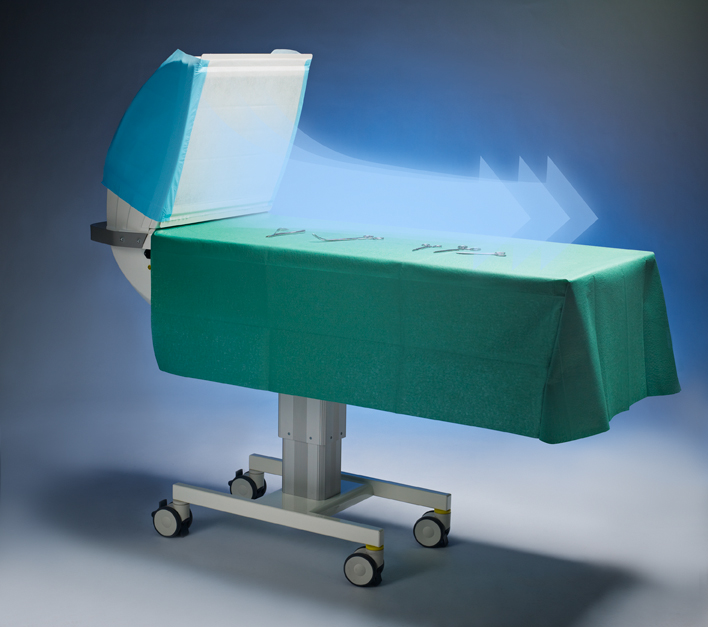 Within the health care sector many important steps have been taken to ensure that surgical procedures are carried out in a sterile and safe environment.
To take this one step even further we are proud to offer SteriStay – a protective instrument table that ensures that instruments and implants remain sterile during both preparation and the entire surgical procedure.
SteriStay is a mobile instrument table intended for use in the operating environment that produces a directed, non-turbulent flow of air over sterile instruments and goods to maintain the sterile integrity.
Our customers give us inspiration...
and therefore we have a developed a new generation of instrument table to protect your instruments, equipment and implants.
SteriStay has a built-in protective barrier of ultraclean air that prevents dangerous, airborne bacteria-carrying particles from
coming into contact with surgical instruments. Only then can instruments remain sterile during the entire surgical procedure.
SteriStay is a mobile adjustable-height instrument table that is just as convenient to use as your regular one. You can use it in the preparation room and place your instruments under the ultra clean air well in advance prior to surgery. In this way you will save valuable time between surgical procedures.
SteriStay
ensures that instruments are kept "sterile" during the entire procedure.
generates increased number of air changes and a reduced amount of particles in the entire operating room with 400 m³ of air cleaned every hour through the HEPA filter.
offers better logistics and increased productivity.
Specification
| | |
| --- | --- |
| Overall length | 133 cm |
| Width | 60 cm |
| Height | 80–120 cm |
| Noise | ca 47 dB |
| Air velocity | 0.4 - 0.5 m/s laminar airflow |
| Air flow | ca 400 m3/h |
| Filter | High Efficiency Particles Filter, HEPA |